Activities calling for environmental protection efforts launched
08/06/2022
Activities calling for environmental protection efforts were rolled out during an event held in Tiên Yên District of the north-eastern province of Quảng Ninh on Saturday.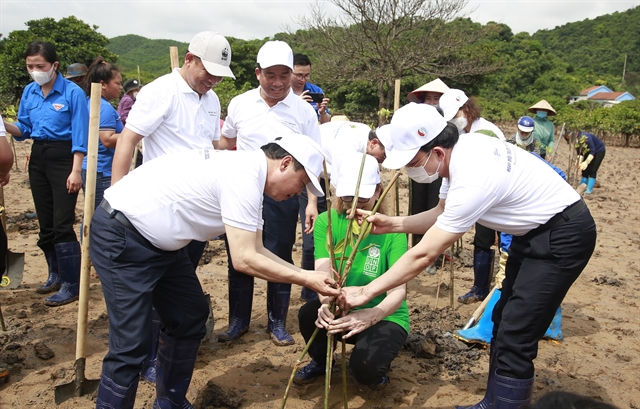 The activities were in response to International Day for Biological Diversity (May 22) and World Environment Day (June 5), as well as the action month on environmental protection slated for June.
Speaking at the launch, Minister of Natural Resources and Environment Trần Hồng Hà said Việt Nam is facing a 'dual crisis' due to climate change, pollution of the environment and water sources and maritime plastic waste.
He called on stakeholders to change attitude and behaviour towards the environment, adjust the use of natural resources towards sustainability and pay heed to natural-based solutions so as to resolve global issues such as climate change, health and food safety, among others.
He proposed ministries, agencies and localities focus on restructuring the economy and renewing development growth model from brown economy to green economy, from over exploiting and using natural resources to the knowledge-based economy, digital economy and low-carbon circular economy.
Localities were advised to make a strong change in their mindset and awareness of sustainable lifestyle in harmonisation with the nature and build a set of standards for green lifestyle for the whole society, he said.
Stakeholders need to join the Convention on Biological Diversity, promote movements to encourage people to actively join the campaign to grow one billion trees, take measures to protect forest and restore and grow mangrove forests, and raise the conservation rate associated with ecological economic development and sustainable livelihoods of the people.
The minister also called for localities to classify and treat waste by advanced technology to protect the environment.
Chairman of the Quảng Ninh People's Committee Nguyễn Tường Văn also called on relevant organisations and people to join hands in environmental protection, thereby contributing to the sustainable socio-economic development of the province in particular and Việt Nam.
After the event, delegates planted trees and released fish in the waters in the mangrove forest area in Đồng Rui Commune of Tiên Yên, with an aim to regenerate and increase the diversity of resources.
Source: vietnamnews.vn